Obagi systems can also treat acne and rosacea skin conditions, Professional C serums will helps protect the skin from the sun with strong anti-oxidant properties.

The Perfect Peel is a revolutionary peel that will transform your skin into looking younger, healthier and clearer in just one week.

Beauty treatments such as Shellac and Cosmaceutical grade skin care products and 100% mineral make up by Jane Irdale are also offered at The Hampshire Face & Laser Clinic, Portsmouth.
Sculptra
®
Sculptra® has provides longer lasting results than the other fillers on the market. Fillers such as Juvaderm etc last approx 9 months but Sculptra® can last up to 2-3 years. The technology behind Sculptra® is more advanced than other traditional fillers and it requires preparation a week in advance of treatment by a practioner. Results with Sculptra® are also much more natural looking. Sculptra® is a state-of-the-art treatment. However, as other fillers need to be repeated 2-3 times a year, Sculptra® actually turns out to be less expensive in the long run.

Safe and Subtle
The Sculptra treatment allows you to keep your beauty treatment a secret as there is no sudden change in your appearance after treatment; rather a gradual enhancement takes place as the body produces collagen over time. Sculptra® does not provide any volume on its own; instead it stimulates the body to produce new collagen at the site of injection thus gradually and subtly reducing lines, wrinkles and folds to restore a fuller, more youthful appearance.

The main ingredient of Sculptra® has been successfully used in surgical operations for over 25 years and was specially developed to help repair facial scars and contour defects. Sculptra® is safe, long lasting, biodegradable and biocompatible, is not made from any human or animal source and animals were not used in it's testing.

Sculptra® is effective for:


Adding volume, enhancing and redefining cheekbones

Filling the concavity of the temples

Reducing dark circles and disguising under-eye bags

Softening deep smile lines

Improving the definition of chin and jaw line

Acne scarring
Procedure
Anaesthetic numbing cream is applied and the number of injections required and their placement depends on age and the amount of volume to be restored. Typically 3-5 sessions at 6-8 weeks interval may be required.

After treatment you will be given special aftercare instructions. For the best effect it is important to massage the treatment area twice a day for one month.

Are there side effects?
Any side effects generally resolve in 2-6 days. As with all other injections there can be temporary swelling, tenderness and redness at the site of the injections. Most side effects can be greatly reduced if you follow your aftercare properly which includes 2 weeks of massage. It's advisable to schedule your treatments at least a week or two from major events, parties and social gatherings.

PROFHILO
®


Aesthetics Award Winner 2016
Profhilo® is an effective and natural looking non surgical facelift treatment, it is a new discovery in facial ageing and is now available at Hampshire Face & Laser Clinic.

Profhilo® remodels the extracellular matrix of the skins elasticity and supports improving skin laxity. 2 treatments with a one month interval. Profhilo® shows a significant improvement of the skins parameters and a noticeable aesthetic outcome and skin hydration.

Thanks to its unique characteristics, Profhilo® provides a new tool to combat facial skin ageing: bioremodeling, and the ability to act on skin laxity.

Bioremodeling differs from traditional biorejuvenation for three main reasons:
- Reduced number of injection points
- The time necessary for each treatment session
- Immediate results sustained longer over time.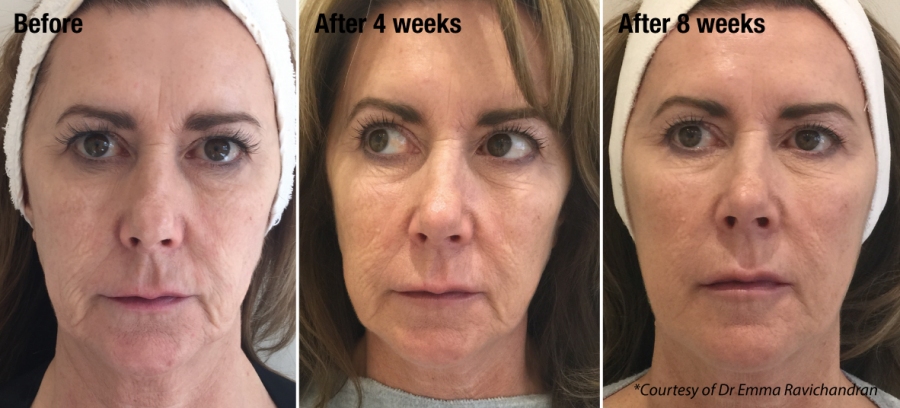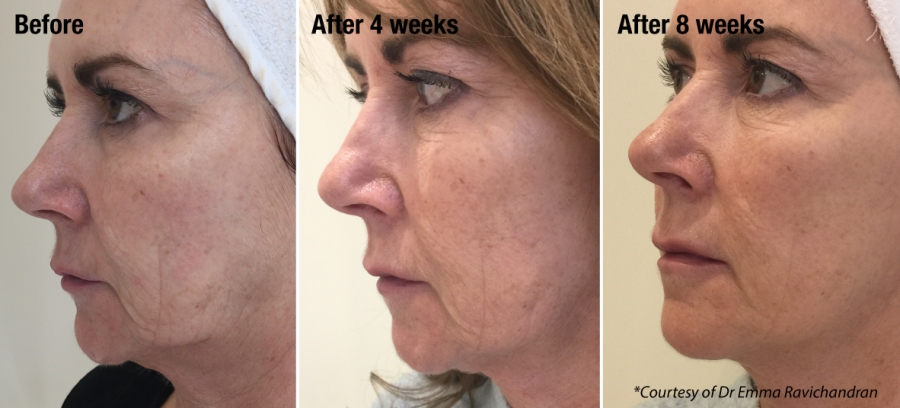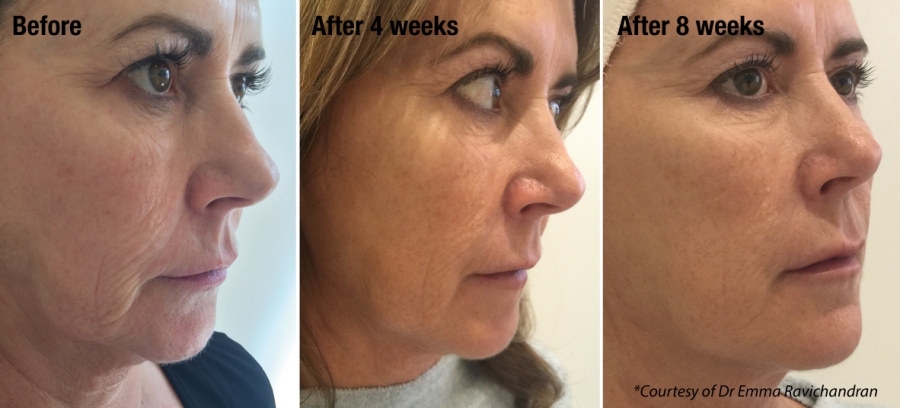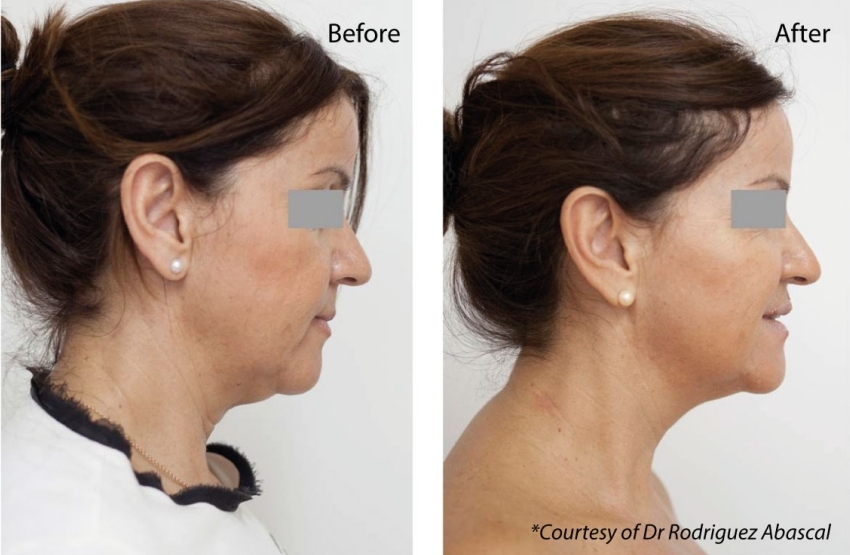 Profhilo® is ideal for volumising areas that were previously challenging, such as the neck and hands. Profhilo® is a novel approach to skin rejuvenation offering corrective and preventive skin care with outstanding results. Profhilo® is also effective if you have had fillers which have helped your fine lines and wrinkles, but you still want a better texture and glow.

Contact Hampshire Face & Laser Clinic to arrange a free consultation


Lip Enhancement - Plump, Rejuvenate, Enhance and Define
Over time your lips can become thinner and perhaps develop fine lines at the edges. Dermal fillers can be used to improve the lip borders and lines. By injecting small amounts of dermal filler we can restore a smooth, natural and youthful look to your lips. Each treatment is tailored to suit the individual, from a mild natural enhancement to a more glamorous pout.

The Hampshire Face & Laser Clinic's reputation as a shaper of aesthetically beautiful, natural lips is second to none. Our lip enhancement procedure ensures that the lips are natural looking, balanced and proportioned to the client's size and shape of face; thus avoiding the 'trout pout' and over-augmented plastic look.

Clients may be seeking lip enhancement to combat the ageing process where the lips lose volume and definition over time or some may get lip enhancement to achieve a more sensual pout. The number of syringes needed depends on client need and the desired affect.

Results
The Hampshire Face & Laser Clinic will ensure you get natural-looking results that last up to a year and see the difference immediately after just one treatment at our beauty clinic.

Procedure
A Dermal Filler such as Juvederm® or Restylane® is injecteded into the lips, to add volume and to shape the lips. The availability of Restylane with lidocaine means that no local anaesthesia is required apart from topical anaesthetic cream (LMX).

Soprano Painless Laser Hair Removal
Introducing the Award Winning Laser Hair Removal System

Pain-Free Hair-Free™

Pain-Free, Hair-Free™ is a state-of-the-art procedure specially designed to remove unwanted hair faster, more comfortably, and with fewer visits than ever before.

Now, because of the patented IN-Motion™ technology of Pain-Free, Hair-Free, you can even treat sensitive areas without the discomfort of other systems. By using a sweeping, paintbrush technique, the Pain-Free, Hair-Free procedure is shorter, more comfortable and gives great results.

Nearly any part of the body can be treated safely and comfortably, including the face, neck, legs, arms, bikini line, back and stomach. Because the laser is constantly in motion, many patients say that Pain-Free, Hair-Free treatments feel similar to a hot stone massage. Pain-Free,Hair-Free gently heats targeted hair follicles with gentle pulses of laser energy, while you stay comfortable.

Technology in motion
Since the laser is in constant motion, your treatment area can be wider - which makes sessions go quickly. Pain-Free, Hair-Free is laser hair removal at its finest and is only available on the Soprano®XL system by Alma Lasers. The IN-Motion technology gradually heats the hair follicles under the skin until they can no longer produce new hair. In addition, a patented DualChill™ mechanism ensures the surface of your skin stays cool and comfortable throughout your treatment.

Safe for all skin types
The Pain-Free, Hair-Free treatment is suitable for all skin types, including tanned skin. You can expect lasting results from a series of relatively short sessions.

Fast and comfortable hair removal. Pain-Free, Hair-Free treatments are:


Virtually pain-free with no medication or other pre-treatments required.

Long-lasting

Quick—treatments are usually under an hour

Recovery-free, so you can return to normal activities immediately

Effective for all skin types, including tanned skin,as well as different hair types

More complete in coverage than other laser hair removal options

Perfect for any area of the body - including more sensitive areas like the face, neck and bikini area
Safe and effective
Hair removal is one of the aesthetic medical industry's most well-known and researched uses of lasers. Thousands of patients worldwide have enjoyed a life without unwanted hair, thanks to Pain-Free, Hair-Free.



The multi award winning Soprano laser hair removal system uses the very latest technology to painlessly remove hair. Unlike most other popular systems, it is NOT an IPL, but relies on unique 'in-motion' technology to cover larger areas in comfort.

The Soprano laser hair removal system offers permanent hair reduction.,that is clinically proven to be both safe and effective.

Soprano is the only pain-free laser on the market – but at the Hampshire face and Laser clinic we offer hugely competitive prices with up to a 50% reduction compared to other locations such as Surrey and London.


"Had my first laser hair removal treatment done today and couldn't be more pleased! The whole process was virtually painless and they couldn't have been nicer! Have had several treatments also done with Sharon as she too is amazing and goes beyond and above for her customers. " - Hope Francis gave The Hampshire Face & Laser Clinic in Portsmouth a 5 Star Review



Skin Needling - Genuine Dermaroller™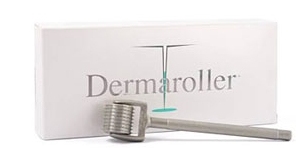 Genuine Dermaroller™ is a natural skin regeneration and scar repair therapy involving advanced micro-medical skin-needling, a procedure that stimulates the skin to regenerate and repair itself naturally and safely, creating smoother, healthier, younger-looking skin.

Genuine Dermaroller™ Therapy can significantly improve the appearance of:
Acne scars

Aged and sun damaged skin

Facial and décolleté lines and wrinkles

Stretch marks
There is little downtime and it has the benefit of being 'chemical free' as it relies on stimulating the skin's own natural growth to improve the appearance of pigmentation problems, fine lines and scars.

Results
Dermaroller™ Therapy is not a quick fix, it requires several treatments and results, although not immediate, are long lasting - taking a few weeks to establish. Dermaroller™ Therapy is normally offered as a course of 1-3 treatments depending on your individual needs.

Consultation
We will carry out a detailed consultation prior to the Dermaroller™ Therapy™ procedure to create a bespoke treatment for your individual needs.

Procedure
Firstly, we will apply an anesthetic cream to the area to be treated; this will be left on for 1 hour to take effect. Once the cream is removed the Dermaroller™ is rolled across the skin to make thousands of tiny puncture marks in the skin. These tiny punctures cause the body to produce new skin cells and collagen as it heals itself. The whole procedure will take approximately one hour, depending upon the areas to be treated. Treatments are normally offered 6 weeks apart to allow new collagen to grow.

The Perfect Peel
5-acid blended peel with Glutathione, vitamins and minerals
The Perfect Peel is a revolutionary peel that will transform your skin into looking younger, healthier and clearer in just one week. The Perfect Peel can be used on all skin types and requires no pre-peel skin preparation. The process takes less than 15 minutes and is virtually pain free. with Glutathione

The Perfect Peel founds itself on a key anti-aging ingredient never before used in a peel: Glutathione. Glutathione is the ultimate antioxidant, penetrating deep into the cellular level of the skin to fight oxidant damage and is the anti-aging answer to premature wrinkling. Our bodies naturally produce glutathione but as we age, our levels deplete due to sun exposure, air pollutants, environmental stress and the aging process itself. Glutathione is also proven to reverse melanin's metabolism, lightening dark pigmentations.


The Perfect Peel blends glutathione, kojic acid, TCA, retinoic acid, salicylic acid, phenol, and a blend of minerals and vitamins, including vitamin C. Kojic acid is a powerful lightening agent and proven to increase collagen and elastin production, resulting in skin that is brighter and tighter. TCA, phenol and retinoic acid reduce wrinkles and correct pigment problems, while salicylic acid exfoliates the skin and reduces inflammation. Alone the ingredients are powerful, but in combination they produce results that are astonishing.

To follow The Perfect Peel, you are given an individual home treatment pack. This pack contains retinol wipes and a vitamin C moisturiser to assist the peeling process and enhance your results.

Call us today for more information or to book an appointment.



NEW - Obagi Peel RADIANCE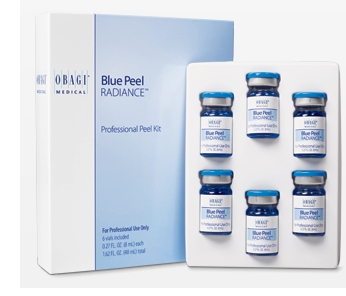 NEW - Obagi Peel RADIANCE
The Obagi Peel Radiance offers a unique blend of acids to provide a gentle but effective peel, resulting in tighter, smoother, brighter-looking skin immediately after just one use.

What to expect
- The formulation achieves instant, glowing results - Tighter, smoother, brighter-looking skin after just one peel - Quick and easy procedure with little to no downtime

The Obagi Peel RADIANCE effectively exfoliates the uppermost damaged skin layers, leaving your skin fresh, renewed, and radiant. While Obagi Peel RADIANCE is formulated to be gentle, you may experience mild peeling and redness on your journey to revealing fresh, glowing skin. In fact, you should see noticeable results after just one treatment. For best results, it is recommended to use the peel every 2-4 weeks, for a total series of 4-6 peels.

We are able to send out products on request.

Call us today about bringing out your inner glow, with new Obagi Peel RADIANCE.



Men's Treatments
Looking good and keeping your appearance fresh is no longer seen as just a woman's domain. More and more men are seeking non-surgical treatments such as Botox, Dermal Fillers and Skin Needling to effectively combat the signs of ageing. We provide treatments for men, helping them to improve their appearance and gain confidence in their looks. We ensure that male clients feel totally comfortable and the treatments are very similar to those offered to female clients. Results are natural and subtle.

Botox for Men
Botox® is the popular wrinkle softening treatment approved for cosmetic use. Botox is a natural and purified protein that temporarily reduces contractions of the facial muscles that cause lines, by blocking nerve transmissions, leaving the skin unwrinkled. This creates a smooth and a more youthful appearance.

Botox treatment is a simple and nonsurgical procedure that requires no anesthesia. Botox is injected into the facial muscles using a tiny needle. It is used for forehead lines, crow's feet around the eyes, frown lines, brow lift and can be used to control sweating under the arms.

Dermal Fillers for Men
Dermal fillers are becoming an increasingly popular way for men to reverse the signs of ageing and stress. Fillers are used to subtley fill out the lines and wrinkles caused by environmental factors, ageing, sun exposure or simply as a result of the way we use our facial muscles. We use Juvéderm® and Restylane® - the highest quality dermal filler products.

Mens Skin Needling - Genuine Dermaroller™
Genuine Dermaroller™ is a natural skin regeneration and scar repair therapy involving advanced micro-medical skin-needling, a procedure that stimulates the skin to regenerate and repair itself naturally and safely, creating smoother, healthier, younger looking skin. Genuine Dermaroller™ helps combat the appearance of scars, acne scarring, wrinkles, uneven skin tone, stretch marks; the treatment has similar results to laser treatment, chemical peels and microdermabrasion, but is considerable less invasive.

Other Beauty Treatments
Semi Permanent Make Up for Eyebrows, Eye and Lip Liners
Have your eyebrows suffered from over plucking? Perhaps with age they have thinned and you would like them to look thicker? Pencilling them in every day is troublesome and can look unnatural but our semi permanent make up could be the ideal answer for you. Your eyebrow or lip /eye liner semi-permanent make up treatment will be tailored to improve and complement your features and skin tone for a lasting, natural finish.
Shellac/Gelish £25
CND Shellac the power polish lasting up to 14 days - set it and forget it. Instantly dry, chip free armour.
Microdermabrasion Treatments - £45 for 1 hour
A deep rejuvenating facial that gently removes the skins impurities with a diamond head suction process, leaving the skin soft, fresh and clean.
Packages
Nail Package
Shellac hands and feet - £40

Relaxation Package
Mini facial/Back Massage/Pedicure - £65
Price List & Further Information
You may download our price list here & please do contact us for more information or to make an appointment.

Testimonials from Our Clients
" I would highly recommend booking in with Melissa for a facial. It was amazing! All staff very welcoming, I am looking forward to my next appointment. Xx"
Vicki Barter - July 2017
"I attended my first ever session for any type of aesthetic treatment with Hampshire Face & Laser Clinic after I had lost a significant amount of weight, which showed in my face making me feel and look 10 years older. Sharon took the time to discuss the options and reassure me that Sculptra was the way forward. I have now had three treatments, and when people ask my age, they are really surprised when I tell them the truth. Hampshire Face & Laser Clinic have also gone out of their way to make sure I am happy with all aspects of the treatments. After 30 months I am approaching the need for a top up and have already booked my appointment."
Steve, 52, from Southampton.
"My friends were always telling me I looked sad or miserable, with the dermal fillers Hampshire Face & Laser Clinic treated me with I don't get those comments anymore, it was painless and I felt really safe and relaxed."
Jacky, 50, from Fareham.